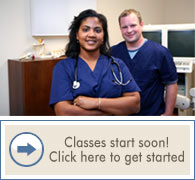 Get trained in Vocational Nursing at Premiere Career College, and learn to apply the steps of the nursing process while assisting the registered nurse and/or physician in the care of patients. You will be confidently prepared to enter this professional medical field learning to assume beginning leadership positions in extended care facilities and doctors' clinics. Your academic and practical education sets you up to successfully pass the NCLEX-VN examination.
Get skilled to perform treatments on all types of patients using good and reliable judgment and decision-making know-how as to the safety of patients and yourself within the boundaries of law and ethics. You will gain the competence that will allow you to apply your critical thinking abilities in the care of the total individual.
Get hired as an entry-level Vocational Nurse working in an acute care hospital, sub-acute center or health clinic under the supervision of a registered nurse and/or licensed physician as you care for patients in a Medical-Surgical, Maternity, Pediatric, or Geriatric setting drawing on your acquired knowledge, applied practice, and understanding of the principles of care throughout the life span of patients.