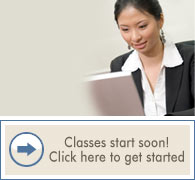 Get trained in areas such as business mathematics, principles and techniques of accounting, typing and keyboarding, and accounting-related computer applications.
Get skilled mastery of electronic calculation (ten-key by touch).
Get hired as a proficient and professional entry-level Accounting Assistant, or an Accounting, Bookkeeping, Auditing, or Billing Clerk in any type of business or industry.