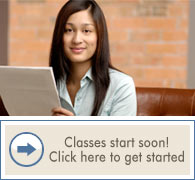 Get trained in business English and correspondence, typing and keyboarding, computers, use of office machines, and standard office practices and procedures. Develop a comfortable familiarity with common business applications in word processing, database and electronic spreadsheet programs. Learn the various tasks and responsibilities of an office assistant, such as scheduling appointments, receptionist functions, filing, record keeping and other clerical duties.
Get skilled at business communications in preparing various types of letters, memoranda and other forms of correspondence developed through practical lessons and exercises. Become competent in the use and basic operation of office machines such as the copier, facsimile, postage meter, etc. Master the touch method of electronic calculation through repetitive practical drills.
Get hired as a proficient and professional entry-level General Office Clerk or Data-Word Processor in virtually any type of business or industry.